Sidewinder:
Height: 6' 4"

Weight: 256 lbs

Raised on a Texas farm.
All-State wrestler 3 years in high school.

NCAA champion while attending University of Texas (UT).

Olympic Gold Medalist in Athens 2004.
Growing up on a farm, Sidewinder started wrestling calves at 5 years old. As a member of
Future Farmers of America
, he submitted the steer he raised from a calf and won the big prize at the
Houston Livestock Show and Rodeo
. This earned him a scholarship to attend university (which he promptly declined because he had already been recruited by the UT wrestling team with full scholarship).
Dominating at the Olympic tryouts and thus making the national team for the 2004 Olympics was the proudest moment in his life. He says, "Bringing home the gold medal from Athens was my dream come true."
Sidewinder brings a combination of technical perfection and farmboy charm to the ring where he entertains the fans with his good looks, supurb skills, and outrageous post victory stunts. Sometimes known to "hogtie" his opponent after a particularly easy victory while more stubborn victims are occasionally "branded" after a
Last Man Standing
match are samples of his in ring theatrics.
Catchphrases : "Hook 'em Horns", "Don't Mess With Texas".
Picture: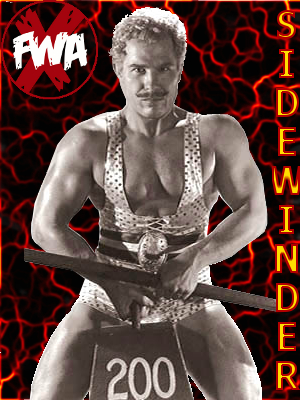 Entrance video:
Save a horse [Ride a cowboy]
Or maybe this is going to be more appropriate in this "Evil" fed

Sidewinder has also experimented with the dark side and wants to try this new personna with crowds at Live Evil...
Just as there are two sides to every coin, Sidewinder has a darkside that he employs in XFWA. This doesn't diminish his grappling expertise at all, just lets him appeal to a wider range of fans.
Catchphrases : "Addicted to the knife", "Take your breath away".
Picture:
Entrance video:
Zydrate Anatomy