Sidewinder: "Well I guess you didn't get the memo, because XFWA doesn't have tag champions or tag team belts."
The Janitors wife is totally amused by Sidewinder's antics as she tosses a piece of popcorn into the air and catches it between her teeth.
The Janitor: "What memo? How you come to that point? Sure we have Tag team belts!"
The Janitor gives his wife a wink and she gets a box out of the cupboard and gives it to the Janitor.
Sidewinder: "So what is in there?"
The Janitor opens the box and pulls out...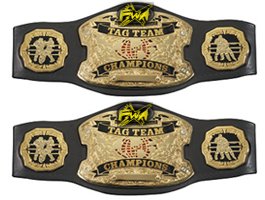 Sidewinder seems only to be a little impressed of the gold...
"Can i see?"
Sidewinder wants to grab a belt, but Janitor slides the belts back into the box.
The Janitor: "Sure you can see.. if you show me that you can compete for it! With any partner on your side!
Anyways, it was only the attempt to get you in better matches "
"I see... I will give it a try then!?"
The Janitor: "I hope so! And good luck!"
Fade to black.
Rotti: "So if I understand correctly, later in the show we have a tag team title match for the new designed titles."
Repo: "For me it looks like the Janitor screwed up some contract agreements. And i am pretty sure this wasn't the last issue Sidewinder will have this season!"